Whether you're pining for crystal clear azure waters, snowy peaks or sun-drenched valleys, the dream of travelling overseas could soon be a reality. According to proposed timetables from the Tourism Restart Taskforce, we could all be bubbling across the Tasman to New Zealand from as early as next month!
Famed for its spectacular scenery, world-class wine and with some incredible new boutique luxury accommodations, we've wrapped up our ideal itinerary for a Trans-Tasman escape to New Zealand's beautiful South Island.
While we still need the final sign off from the Australian and NZ governments, savvy travellers would be wise to act quickly, start planning and secure some of the incredible packages and great value experiences on offer from New Zealand tourism businesses eager to welcome back visitors.
To help send you on your way, we are offering a $50 travel voucher on all New Zealand itineraries booked until the end of 2020. Our passionate team of travel advisors can create personalised and customised holidays with access to the best prices, VIP benefits, amenities and extras only available via our exclusive relationships and affiliations.
Reach out to via email to redeem your travel voucher and discover more travel inspiration on our travel blog and social media @jigsawtravel and Jigsaw Travel Facebook.
CHRISTCHURCH - TRANZALPINE TRAIN - WEST COAST - FRANZ JOSEF GLACIER - QUEENSTOWN
CHRISTCHURCH
Refreshed, renewed and full of surprises, Christchurch is your starting point for South Island exploration. Discover the area's rich culture at one of the many museums, or take a ride on the famous Christchurch Gondola for 360-degree views of the city-scape, Canterbury plains, Southern Alps and surrounds. It's impossible to visit the 'Garden City' without admiring the resilience and creativity of the locals after enduring some devastating hardships in recent years. This is displayed at a number of 'Gap Filler' urban regeneration projects such as Pallet Pavilion and the 'Cardboard Cathedral'
WHERE TO STAY
Situated in a peaceful spot overlooking the Avon River and Hagley Park, The George is a stylish urban sanctuary within easy walking distance of Christchurch centre. All 53 of its spacious rooms have been designed with relaxation in mind – decorated in soothing neutral tones, the atmosphere is one of sophisticated elegance with luxury details creating an inviting sense of warmth. Expect innovative cuisine in two superb restaurants, impeccable service and works of art by some of New Zealand's finest contemporary artists.
From Christchurch, we're heading over to the West Coast, but don't leave town without exploring what's on offer just outside the city limits including the alpine hot pools of Hanmer Springs.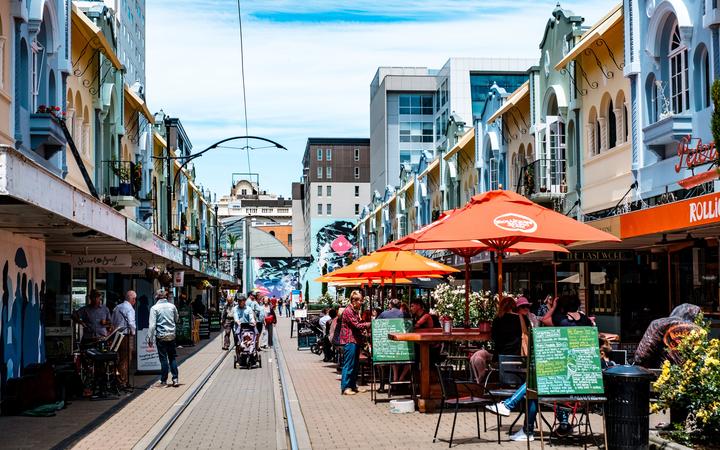 TRANZALPINE TRAIN TO GREYMOUTH
Board one of the world's greatest train journeys, the TranzAlpine from Christchurch to Greymouth, covering 223 kilometres from coast to coast. You'll traverse some of New Zealand's most majestic, rugged and breathtaking scenery. The track takes you through the patchwork farmlands of the Canterbury Plains, over a series of viaducts to the dizzy heights of Arthur's Pass and crosses the Southern Alps to reach the wildly beautiful West Coast and seeing the country in all its glorious variety.
Upon arrival in Greymouth, spend some time exploring the historic mining town, or pick up a car and journey on to Franz Josef Glacier and Fox Glacier, approximately two hours south along the West Coast.
GLACIER COUNTRY
The World Heritage Area of Franz Josef and Fox Glacier is renowned for its jaw-dropping natural attractions – rainforests, waterfalls, lakes and of course the fascinating and unusually accessible 'blue ice' glaciers. To experience the glaciers, you can take a heli-hike or ice walk with a local guide, who will craft their way through the terrain using an ice axe to uncover the most impressive glacier features, ice formations and safest hike route.
The small township at the base of Franz Josef Glacier offers restaurants, cafes and a range of activities including kayaking and stand-up-paddle boarding. And there's truly no better way to end a day of exploring the glacier than relaxing in the heavenly warmth of the Franz Josef Glacier Hot pools.
For something a little off the tourist track – just outside the Fox Glacier township at Lake Matheson (pictured), nature provides the precise ingredients to create truly stunning reflections of New Zealand's highest peaks – Aoraki (Mount Cook) and Mount Tasman. The dark waters of Lake Matheson create the ideal reflective surface on a calm clear morning. The lake was formed about 14,000 years ago, when the Fox Glacier retreated from its last major advance towards the sea and left a depression which later filled with water. The walk from the car park takes 40 minutes to the pontoon, or 1.5 hours around the lake.
WHERE TO STAY
Nestled amongst native West Coast rainforest near the Franz Josef Glacier, Te Waonui Forest Retreat (above) offers a very special luxury eco-retreat experience. Designed to step lightly on the earth, great care has been taken to provide the ultimate in natural and sustainable luxury. Innovative, environmentally sustainable architecture and building materials have been used to create a warm and welcoming retreat. Discerning travellers will appreciate Te Waonui's exceptional service and attention to detail, which is carried through the luxuriously appointed and generously proportioned guest rooms and 'The Canopy' restaurant. Set amongst the rainforest trees, The Canopy's talented chef team serve up a five-course degustation menu that showcases the incredible produce and local cuisine of the area.
The luxury retreat features glacier thermal pools and is close to local attractions including, horse trekking, rafting, quad bike tours and of course the Fox and Franz Josef Glaciers, just minutes away.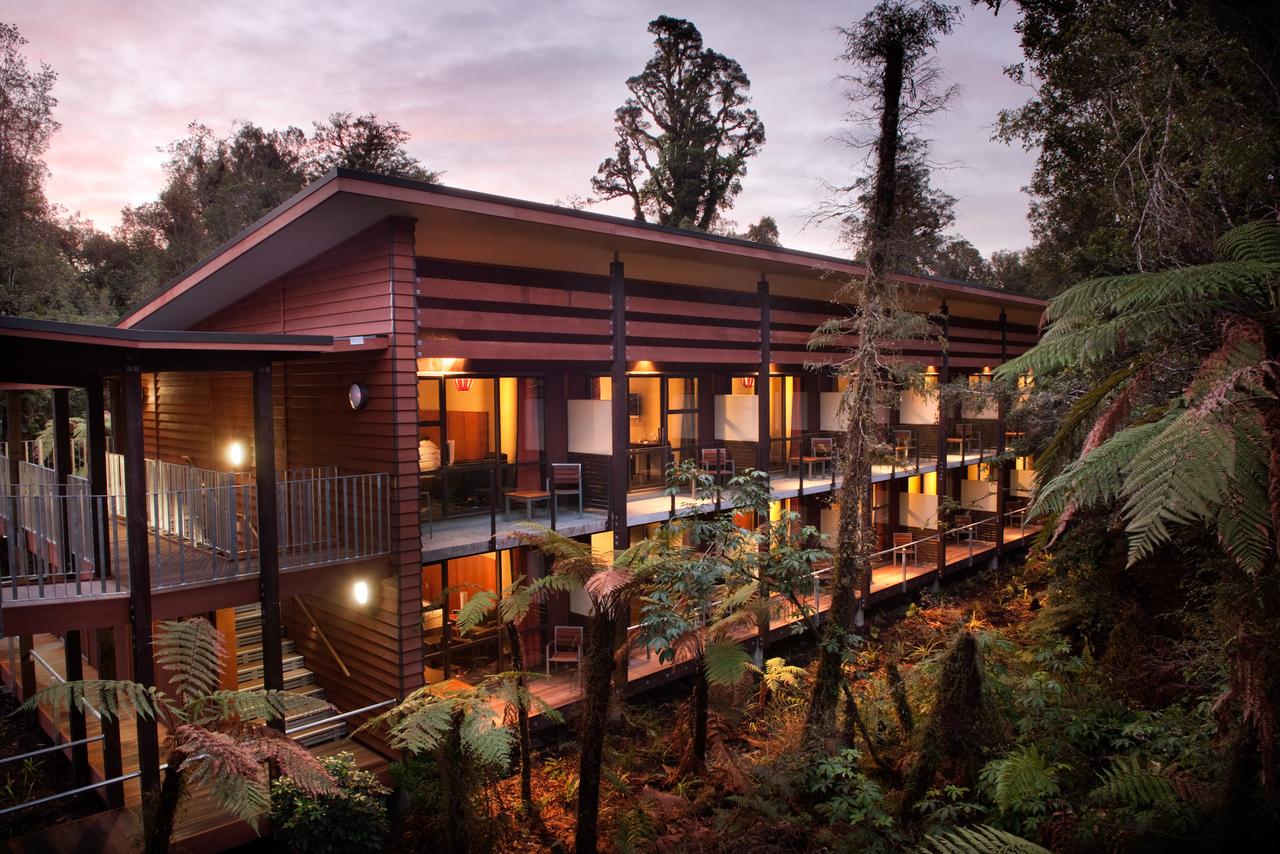 ON TO QUEENSTOWN
While it can be done in just under five hours, the drive out of Glacier Country down to Queenstown is so mind-blowingly spectacular that we recommend spending a full day for this leg of the road trip – allowing ample time for stopping and staring in awe at the incredible sights along the way. These include Fantail Falls, Blue Pools, Lakes Wanaka and Hawea, Gibbston Valley and Arrowtown (pictured). As you head into the Otago Wine Region, be sure to stop off at some of the vineyards and wineries, famous the world over for their cool climate wines. The most notable of these is the Gibbston Valley Winery, which has a wine cellar and tastings held in a cave that has been carved out of the rock face.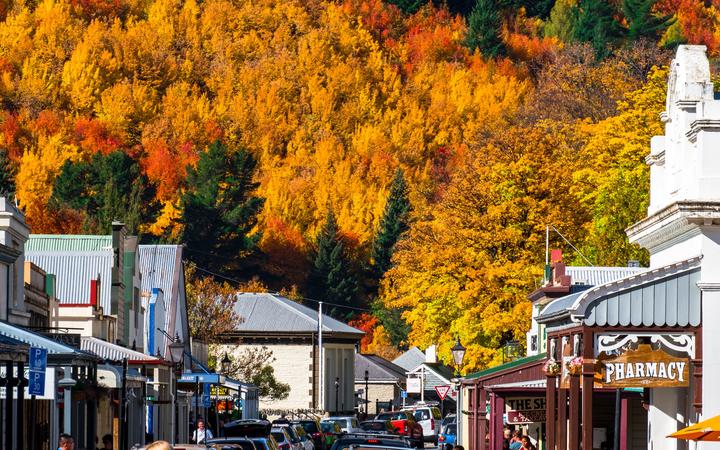 QUEENSTOWN
A long-time favourite amongst international visitors for its stunning scenery of Lake Wakatipu, scattering of ski resorts, adrenaline-fueled adventures and party town atmosphere, Queenstown has recently lifted its luxury game with a number of world-class accommodation offerings and a food & wine scene to match
WHERE TO STAY
The final destination in our tour of the South Island is one of pure indulgence and relaxation – Matakauri Lodge (above). Spectacularly located on the shores of Lake Wakatipu looking out to a mesmerizing panorama of the big three; The Remarkables, Cecil and Walter Peak, Matakauri Lodge was last year named in the Top 5 Resorts in Australia and NZ in Travel + Leisure's 'World's Best Awards'
The lodge is comprised of 12 luxurious suites, designed with understated clean lines and utilising glass, stone and timber that champion the mountainscape beyond. Service professionals are on hand to take care of all arrangements during your stay, so whether you would like to plan an adrenaline packed afternoon, a round of golf, private dining in your suite, or a session at the on-site Matakauri Spa on the edge of the pine forest, all you need do is ask!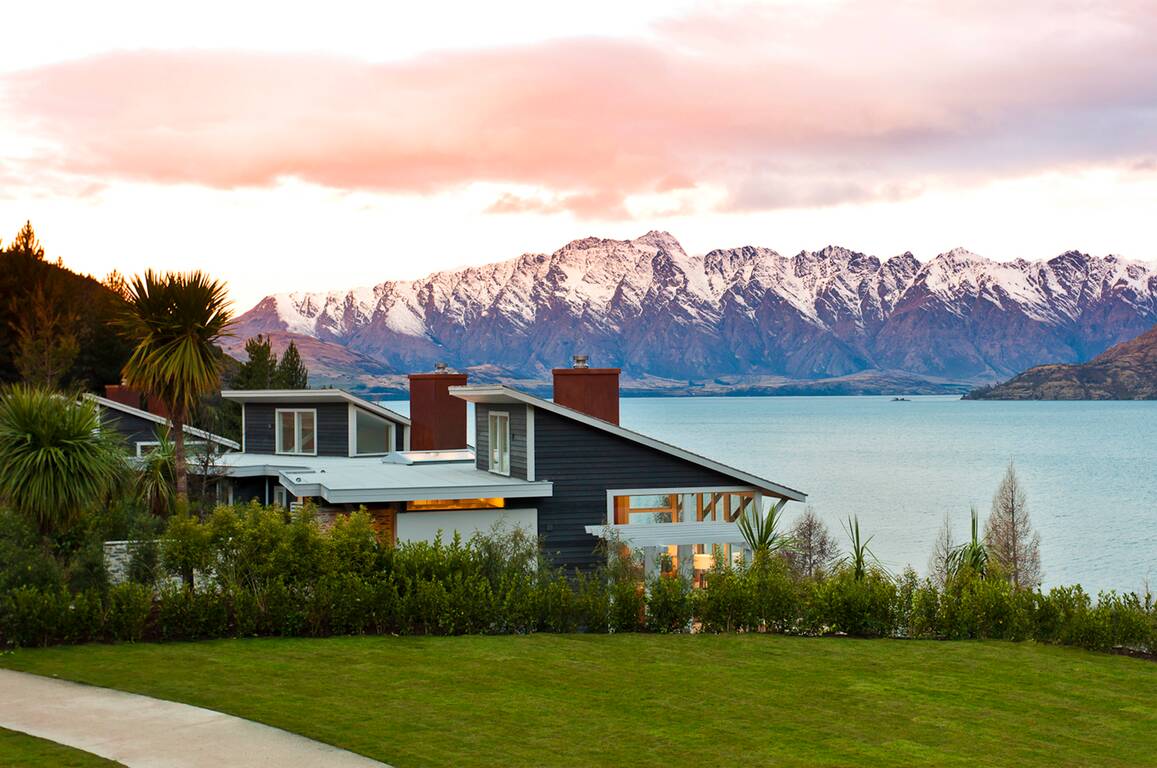 2021 NEW ZEALAND CRUISING
Planning a little further ahead, Regent Seven Seas' 'Majesty of Milford' all inclusive, 15-night luxury cruise from Sydney to Auckland departs January 6, 2021 aboard the brand new Seven Seas Explorer. Travelling down Australia's east coast, it takes in Phillip Island and northern Tasmania before heading across to New Zealand, through the spectacular Milford Sound region, and right up the east coast to the Bay of Islands before arriving in Auckland.
Seven Seas Explorer has redefined luxury at sea. The all-suite ship boasts more space per guest than any other ship. Every stunning suite has high-end finishes, relaxing Elite Slumber™ beds and private balconies. Regent Seven Seas really sets the bar for luxury cruising – everything is taken care of from exquisite meals, refined service, exhilarating shore excursions, on board activities, land programmes and pre and post cruise hotel accommodation.