Tasmania – home of the purest air on earth, wild rugged coastlines and surprising luxury experiences set within otherwise untouched natural settings.
For many Australians, Tassie has been a 'one day …' destination. Somewhere to visit once the adventures of Europe or Africa or more tropical destinations are ticked off the bucket list.
When interstate borders reopen (hopefully soon) it will be time to discover the places and experiences that have been right under our noses this whole time; those that make our country so special and unlike anywhere else on earth.
After a period of confinement, Tasmania's Three Capes Lodge Walk will provide a freeing opportunity to reconnect with nature and experience that sense of carefree and grounding simplicity that travel so often delivers. Read on for our overview of the four-day guided walk, as well as a secluded private island retreat off Tasmania's South Coast and an East Coast road trip itinerary from Hobart to Launceston along the iconic Freycinet Peninsula. We hope it brings you some inspiration and a taste of the freedom that awaits.
We also wrap up our top Tassie dining tips – taking in the best of the state's incredible produce and culinary talent to enjoy on your travels, and look into some #TravelFromHome virtual treks to get you Three Capes ready in isolation.
Discover more travel inspiration on our travel blog and social media @jigsawtravel and Jigsaw Travel Facebook.
Tasmanian Walking Company's Three Capes Lodge Walk is the only fully guided Three Capes Track experience with accommodation inside the Tasman National Park. The trail takes you along some of the world's highest sea cliffs, starting from Denman's Cove, summiting Arthurs Peak before making your way to Cape Pillar Lodge where adventures through the silver gum forest, indulgent dinners and massages await. It's then on to Cape Hauy as an optional side trip or the direct route to Fortescue Bay, before returning to Hobart to raise a glass to four days well spent!
The spectacular views of untouched landscapes and salty wind in your hair is truly exhilarating, while exclusive lodge accommodation with the luxury touches of plush pillows, generous bathtubs, afternoon teas and expertly prepared dinners provide the ideal shelter to relax and rejuvenate after a day on the trail. Standing on the deck, Tasmanian wine in hand stargazing into a clear southern sky is a memory that will stay with you long after you return home.
PRICE – The four day guided experience is priced from $2,895 per person  including gst*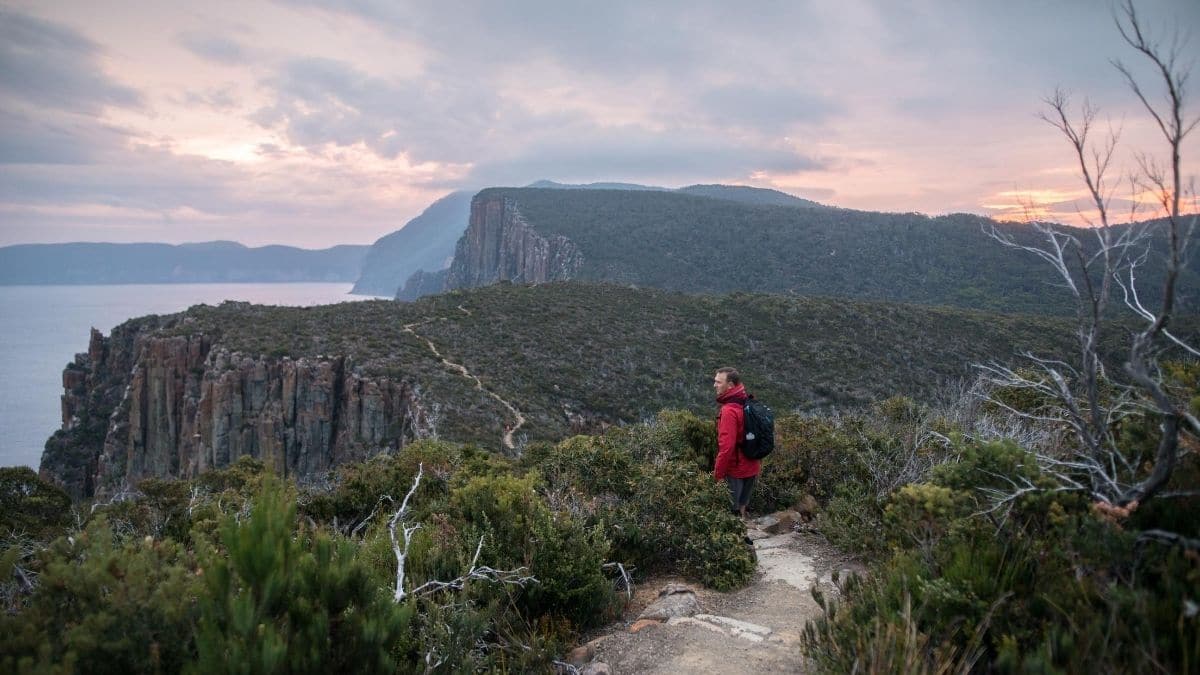 MACq01 HOTEL HOBART
Bookend your Three Capes Lodge Walk in Hobart, exploring the intriguing history and characters of Tasmania's European Settlement with a stay at MACq01, the city's waterfront 'storytelling hotel'. Guided by the philosophy that an immersion in the stories of the past creates a more meaningful connection to place, MACq01 guests are engaged in the historical narrative at every touch point – through the architecture, interior design, multimedia, food & beverage, and the people – all set against a backdrop of relaxed luxury.
One of the earliest sites of European settlement in Tasmania, MACq01 Hotel occupies arguably the best real estate in Hobart with front row seats to the vast River Derwent, magnificent Mount Wellington and charismatic waterfront precinct. It is home to Old Wharf Restaurant with a menu that hinges on Tasmania's pure produce and Evolve Spirits Bar which was named Tasmania's Best Bar and Australia's Best Hotel Bar at the 2019 Bartender Magazine Australian Bar Awards.
PRICE – From $264 including gst per night including breakfast for two guests.*
From Hobart, embark on the state's most famed road trip – heading up the East Coast into Freycinet National Park.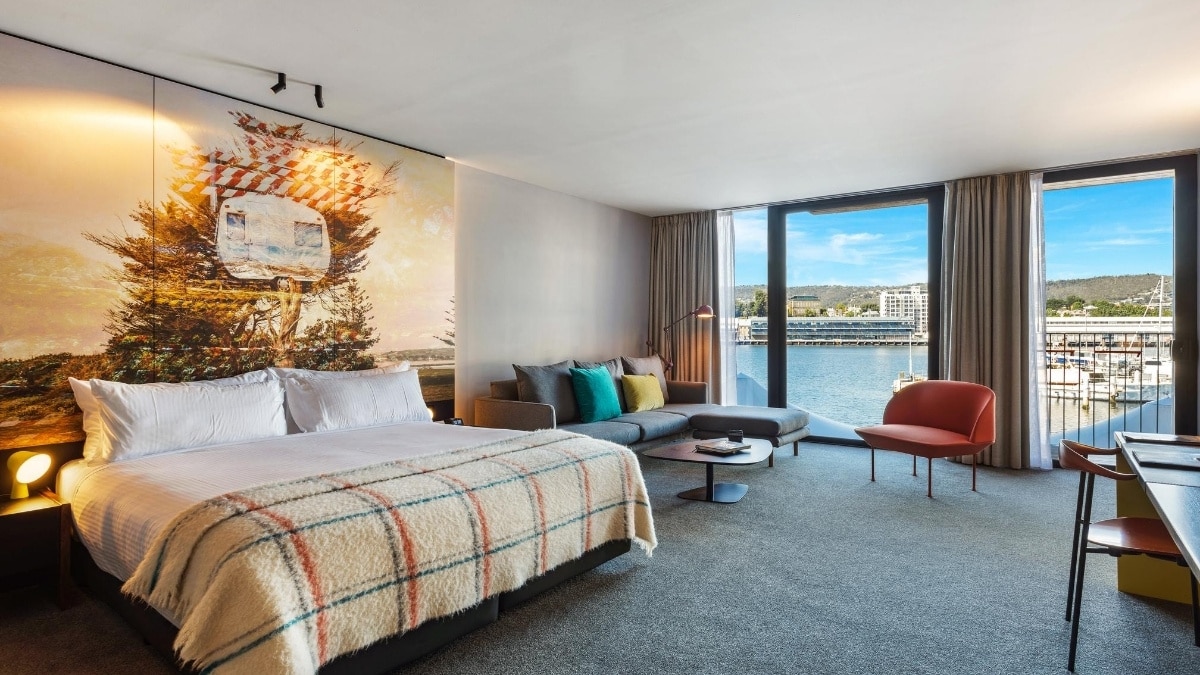 FIRST STOP
PIERMONT RETREAT – 1hr 45 mins from Hobart.
Nestled in an unspoilt bay in remote East Coast Tasmania, Piermont is a magnificent sanctuary with a vast wilderness on its doorstep and rich culture to explore. All the essentials for an idyllic coastal escape are on hand amongst captivating natural surroundings. 15 charming cottages with log fires, spa baths, full kitchen and beachfront decks are scattered amongst she-oaks, gum trees and dune grasses on Piermont Beach, while higher up on the hill, Piermont's suites offer elegant retreats with expansive spa bathrooms that seem to float over the treetops across Great Oyster Bay.
Lazy days can be spent wandering the private beaches, creating a picnic from the Piermont pantry to enjoy down at the boatshed, and feeding apples to the horses, before heading home for freshly sucked oysters and Cape Grim beef at the Homestead Restaurant.PRICE – From $375 including gst for two people*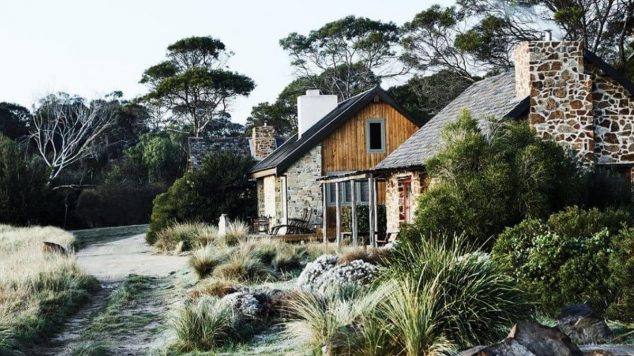 NEXT STOP
SAFFIRE – 50 mins from Piermont Retreat
The ultimate in post travel ban indulgence, Saffire (main pic) will more than make up for any lingering sadness you're holding for cancelled 2020 holiday plans.
Voted World's Best Boutique Hotel and World's Best Luxury Hotel, Saffire offers an authentic, enriching and uplifting experience. With a distinct design set within the Freycinet landscape, Saffire sets itself apart by its approach to tailored, one-on-one experiences and service. Bespoke guest experiences include donning waders to visit the working oyster farm, a Wineglass Bay lookout walk, birdwatching from kayaks, flyfishing, beekeeping and more.
Just 20 accommodation suites are discreetly positioned overlooking the Hazards Mountains, Freycinet Peninsula and the pristine waters of Great Oyster Bay, along with an exclusive day spa, restaurant and lounge. The lodge is intimate, engaging, secluded, and offers unique experiences that will leave you with an unforgettable connection to place.
PRICE – From $2050 including gst per night for two guests. Fully inclusive of all meals, beverages and a range of experiences.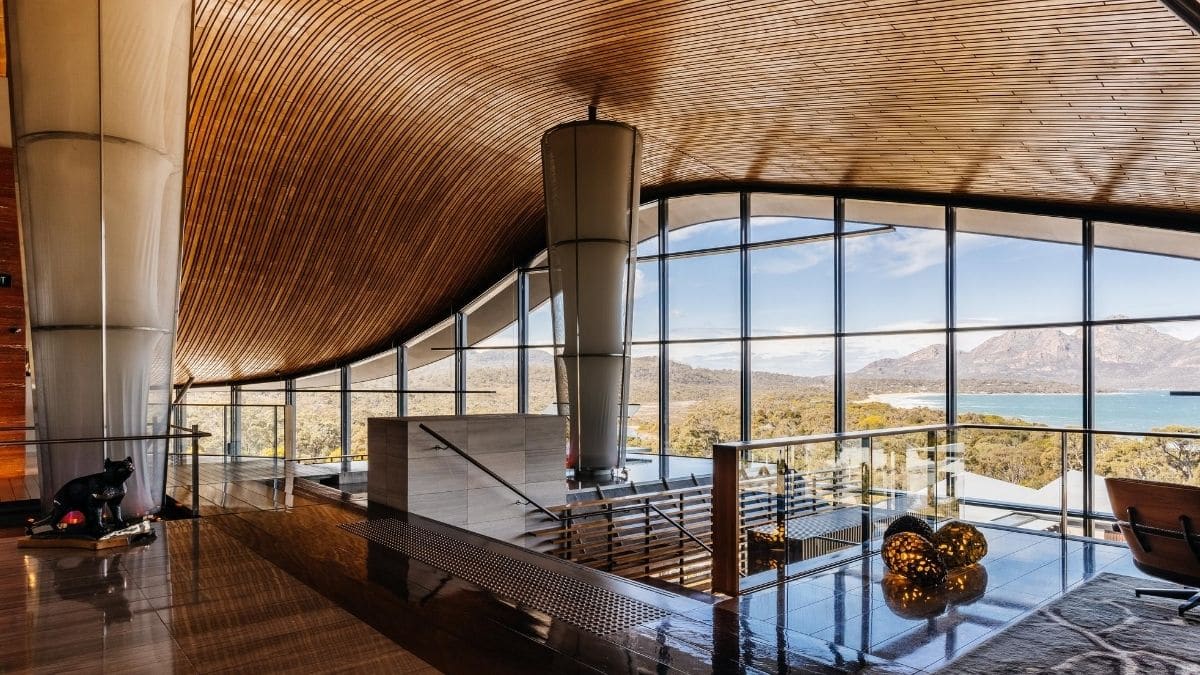 FINISH IN LAUNCESTON
HOTEL VERGE 2 hours, 10 mins from Saffire
End your adventure with a night or two in Launceston, indulging in the incredible dining of the city and nearby wineries (see our recommendations below). Set to open its doors in mid-September, Launceston's newest boutique accommodation offering, Hotel Verge references its setting's early industrial heritage with spacious well-appointed rooms designed with a sense of raw luxury.
The CBD location makes it an ideal base for exploring, while the luxurious amenities, wi-fi and in-house movies make staying in almost as appealing as heading out.
EXCLUSIVE OPENING SPECIAL –
Two nights in a Verge King, breakfast daily for two people in Diverge Restaurant & 1pm checkout.
Free parking (subject to availability), Wi-Fi & movies along with access to the hotel gym.
$399 including gst
Get the full experience & upgrade to a Verge Luxe for $50 or Verge Ultimate for $100 per night.
Travel dates: 16/09/20 – 30/06/21
Bookable until 31st October 2020 for travel up until 30 June 2021
*Please note stated 'starting from' prices are subject to fluctuation and availability depending on travel dates.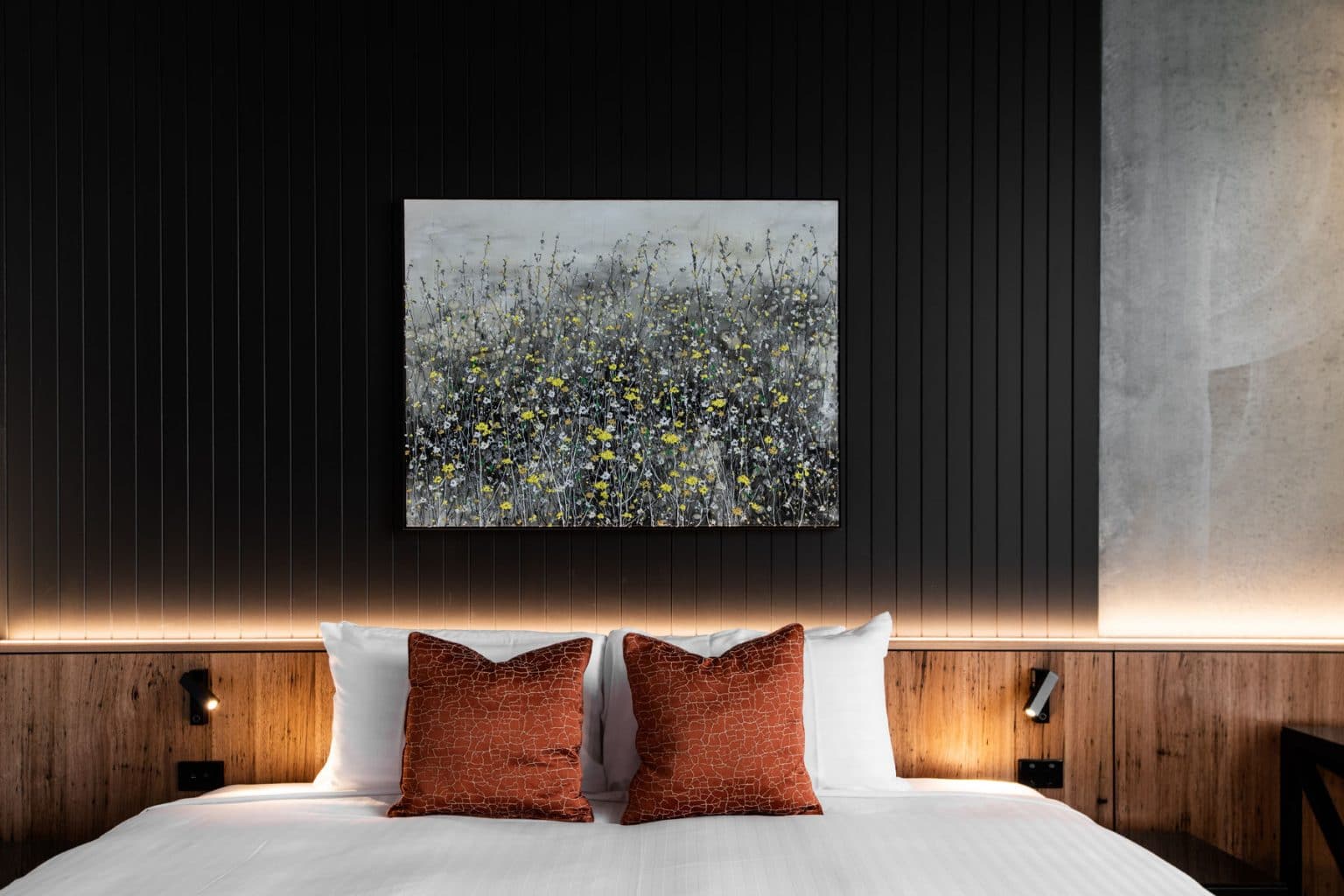 Rather than embarking on a road trip, opt for an exclusive private island escape on Satellite Island. 
After completing your Three Capes Lodge Walk, continue with your travel crew and escape to Satellite Island – a very special and very remote, rugged private island retreat that provides a rare opportunity to be completely immersed in the wild beauty of Tasmanian nature.
Available for exclusive use only and accommodating up to eight guests, Satellite Island is the perfect combination of relaxing hideaway and untamed wilderness located in the heart of the magnificent D'Entrecasteaux Channel, in the south of Tasmania.
The island has one main house, the 'Summer house' and also the 'Boathouse' (pictured), where you can drift off to sleep on top of  the water.  A stay on Satellite Island is about slowing down and enjoying the simplicity of life – a bonfire on the top of the island at sunset; a long lunch at the Boathouse on the water's edge; cooking freshly caught fish over a fire on the pebble beach; searching for sea treasures along the rock shelf walk; shucking wild oysters straight from the sea; diving for urchin, abalone and mussels; watching the sunset across the Southern Ocean at Last Glimpse Point; watching the sunrise over nearby Bruny Island; swimming in the pristine waters surrounding the island; lying on a sun lounge on the water's edge with a book and just the sound of the sea, surrounded by the Tasmanian wilderness. There is so much or so little to do on Satellite Island.
PRICE – To hire the entire island exclusively, 2021 rates begin at $2050 a night for 2 guests with a 2 night minimum stay. Extra guests are $300pp per night. Rates include gourmet breakfast provisions, pantry with gourmet essentials, an endless supply of wild oysters, kitchen garden, orchard, fishing equipment, kayaks, snorkels, stand up paddle boards, yoga mats, flippers, board games, linen etc and all boat transport to and from the island.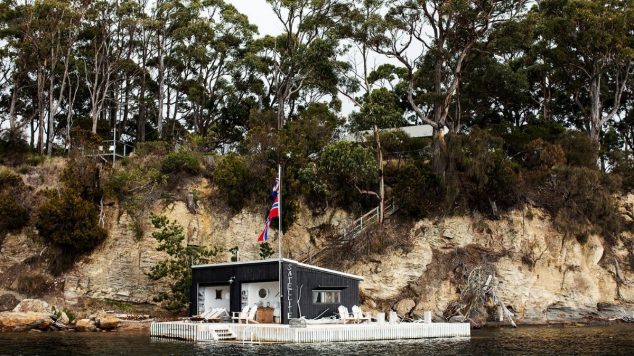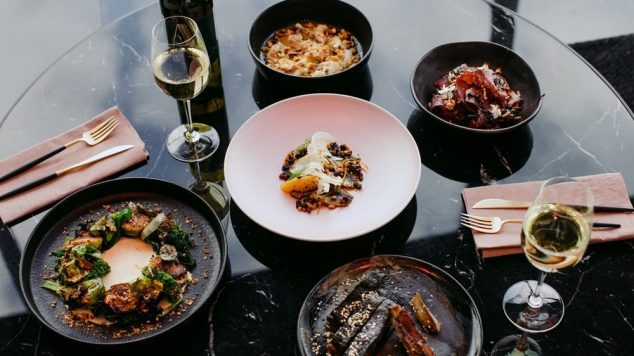 TRAVEL FROM HOME – VIRTUAL FITNESS MISSION
Get ready for your Three Capes Lodge Walk by committing to a virtual fitness mission and 'walking' some of the world's most epic trails with mobile fitness app – My Virtual Mission. The New Zealand startup app allows you to virtually walk the length of NZ's North Island, the Inca Trail (pictured) or Route 66 and take on other physical challenges. All you need to do is pick a mission and the free app tracks your journey, allowing you to see where you are along the way with a virtual street view.
Search 'My Virtual Mission' in the App Store.