Opened in November 2021, JOALI BEING is a breathtaking new, nature-immersive wellbeing retreat nestled on the secluded Maldives island of Bodufushi – amid crystalline lagoons, pristine beaches and lush coconut palms. From exhilarating adventure and soulful relaxation to customised nutrition and interactive learning, JOALI's immersive wellbeing programmes reflect the wondrous spirit of its natural surroundings and are tailored to individual lifestyles and goals.
With 68 villas, accommodating from two to ten guests, and each with its own butler or "Jadugar", the island retreat features a collection of awe-inspiring spaces designed for reflection, exploration and growth, each created in collaboration with knowledgeable wellbeing experts. Think beautiful restaurants and bars serving indulgent but nourishing, sustainable menus, 39 stunning wellness treatment spaces, state-of-the-art fitness rooms,  a sound therapy trail, a unique Hydrotherapy Hall to experience the healing powers of water ,and more.
GIVEAWAY! To celebrate the opening of JOALI BEING, Jigsaw Travel is giving away a 3-night stay for 2 people to this magical destination, valued at $12,000! Head to our Instagram page @jigsawtravel for all the details, and read on to learn more about what makes a JOALI BEING wellness retreat experience so transformative.
If you are ready to awaken your senses with a transformative and luxurious wellness experience, Jigsaw Travel can take you there. Chat with one of our team today at enquiries@jigsawtravel.com.au or (03) 9521 1416 and let's start planning your next adventure!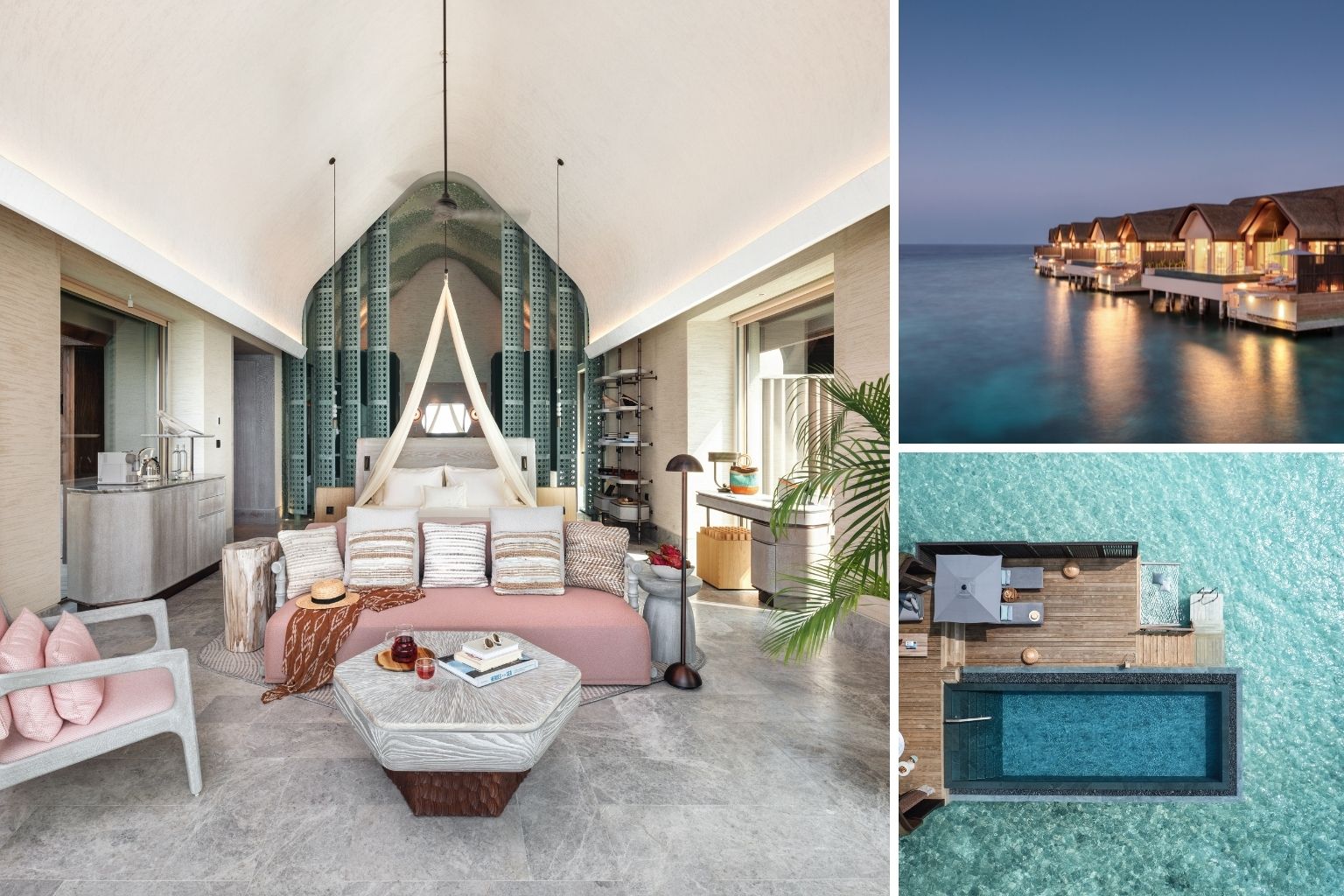 LOCATION
JOALI BEING is a 40-minute seaplane journey from Malé International Airport situated on Bodufushi Island in Raa Atoll. The retreat's remote and beautiful natural surroundings are a key element of its wellness offerings – with sound therapy in the indigenous forest, meditations above the tranquil waves, and a daily sunset ritual on ivory sands.
THE VILLAS
Built according to biophilic design principles, JOALI BEING evokes harmony and balance by enhancing the energy flow of the landscape. Each of the retreat's 68 villas come with private pools and special inclusions, such as customised mini-bar setups, meditative musical instruments and wellbeing games.
All Villas Feature: Private Pool, Jadugar (Butler) Service, King/Twin Size Bed, Air-Conditioning, Bang & Olufsen,  Sea-View, Hairdryer, Non-Allergenic Pillows, In-Villa Safety Box, Multi-Line Telephone With Voicemail, Tea/Coffee Making Facilities, Wellbeing Bar, IDD Telephone and WiFi, Outdoor Rain Shower.
IMMERSION PROGRAMMES
Rediscover a natural state of health and happiness through JOALI BEING's Immersion Programmes, ranging from five nights to three weeks. Designed to rebalance the Four Pillars of Wellbeing – Mind, Skin, Microbiome and Energy, your journey will be customised after a Movement Analysis and Integrative Health Assessment.
Immersion Programmes can be tailored to areas of strength and vitality, mental clarity and wellbeing, hormonal balance, women's health, digestive and weight rebalance, restorative sleep, as well as movement and alignment for good health and immunity.
CULINARY ARTS
All food and beverage options at JOALI BEING have been expertly curated with the help of the retreat's nutritionists, offering a selection of flavours and cuisines with healthy and indulging dining options. Personalised nutrition sessions and co-created menu recommendations are available.
FLOW, is the vibrant and open-plan, interactive dining space featuring three signature kitchens. Plantae offers vegetarian and vegan cuisine, Su serves ocean-to-table pescatarian fare, and B'Well features a signature JOALI BEING menu, including a selection of Earth-to-Table meals. For sunset seekers, there is Mojo – a tropical beach sanctuary located on a three-layered sundeck and is an ideal lunch and sundowner by the pool.
Culinary arts at JOALI BEING focus on an earth-to-table initiative, promising ingredient traceability and offering fresh, locally harvested foods that support small farms and are sustainably sourced.
SUSTAINABILITY
The Maldives is a unique destination with a fragile ecosystem. From the tiniest marine creature to the tallest palm tree, each living thing plays a vital role in the replenishing experience created by the islands. At JOALI BEING, the conservation of the natural environment is a priority and a privilege. Based on biophilic design principles, the retreat's innovative landscaping and architecture embrace its incredible surroundings.
The island is home to one of three turtle conservation sanctuaries in Maldives which is developed by cooperating with Olive Ridley Project, as well as a Reef Restoration Project and a coral nursery. JOALI BEING is also collaborating with EarthCheck on several long-term sustainability initiatives, including a desalination water-bottling plant, a rainwater harvesting and greywater recycling system, a glass crusher and recycler, and a plant waste shredder for fertilising.
JOY OF BEING KIDS RETREAT
For Summer 2022 (until August 31), JOALI BEING is taking young guests on an adventure filled with joy, friendship and learning. At this unique retreat, young explorers will discover the best of nature and holistic wellbeing.
Guided by an expert team of marine biologists, naturopaths, nutritionists and chefs, children will have the opportunity to explore underwater life, pick up new skills, and practice different forms of movement and meditation. As they follow their curiosity and try out different activities, they will work together in teams and make new friends. Each day brings so many new possibilities – from yoga to herbology workshops, from making healthy 'nice' cream to learning about turtles.
Joy of BEING welcomes kids between the ages of 6 and 12 years.