With a roadmap to recovery in place, it's time to start planning your next adventure, far from the city crowds. Blessed with vast, wide open spaces and an abundance of breathtaking natural attractions, the Australian outback is the ideal setting for reconnecting with nature, whilst also gaining a renewed appreciation for the land we call home.
From the spectacular beauty of the Flinders Ranges to the rugged and expansive vistas of Arnhem Land, the Australian outback offers a myriad of exclusive experiences that help give one a better appreciation of how our land was formed, along with a deeper understanding of how our indigenous communities lived off the land for thousands of years.
Keep reading below to discover an enticing selection of air tours from Australian Air Safaris or perhaps consider an all-inclusive adventure at Davidson's Arnhemland Safaris, a luxury lodge located on a sacred site. 
Then, be further inspired with some armchair travel by watching Back to Nature with Aaron Pederson on ABC iView. This evocative and inspiring series visits some of Australia's most breathtaking natural settings. 
Lastly, just a reminder to check your passport. Yes, it's been gathering dust on the shelf for over 18 months now, but it's worth digging it out and checking the expiry date. If it's close to having only six months validity left, we recommend renewing it now so you're ready when borders open. If a passport expires, it is a much more arduous and expensive process to apply for a new one, rather than simply renewing your existing passport before it expires. We hope to be sending you out into the world again soon.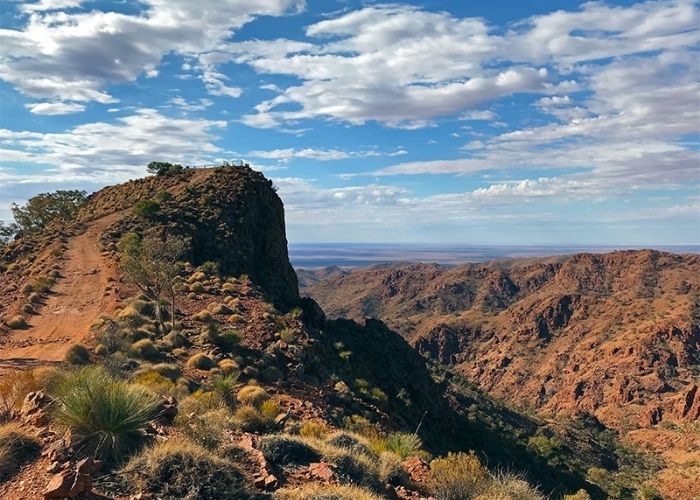 Flinders Ranges, South Australia
Australian Air Safaris
Australian Air Safaris are specialists when it comes to discovering iconic Australian destinations that can be found far from the city crowds. In addition to their enticing selection of all-inclusive air tours to destinations such as the Bass Straight Isles, Tasmanian Wilderness and Murray River, they offer various tours that explore the best the Australian outback. 
Choose from their ultimate 15-day outback experience or their spectacular 3-day taster tour. Alternatively, join a luxury air tour to fascinating destinations such as the Flinders Ranges, Cape York, The Kimberley & The Pilbara or Broken Hill. These personalised, small group tours will leave you with a renewed ambition to discover more of our great country.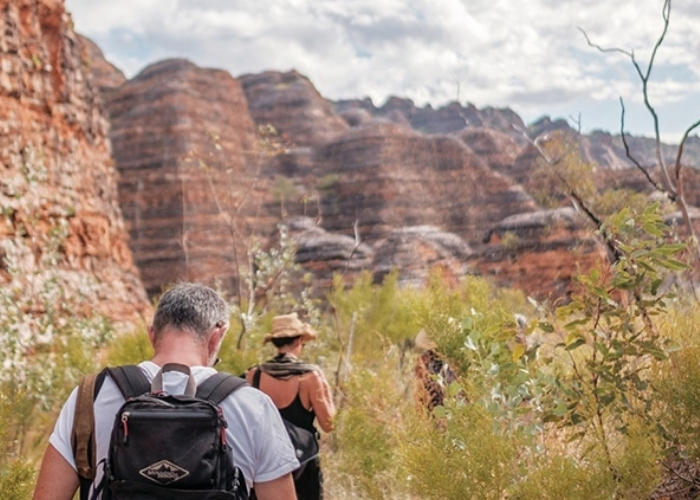 Bungle Bungle Range, Western Australia
Ultimate Outback Air Safari
For the ultimate outback adventure, you can't look past Australian Air Safari's 15-day Ultimate Outback Air Safari. This luxury tour explores two of Australia's most strikingly beautiful outback regions – the Kimberley in northern Western Australia and the Northern Territory, as well as Queensland and South Australia.
This unforgettable adventure is packed full of exclusive experiences – you'll stay in some incredible resorts in spectacular settings – Arnhem Land, a Territory cattle station, Purnululu National Park, the Kimberley coast and Ayers Rock. You'll also be treated to some more traditional outback experiences like the Birdsville Hotel, Adels Grove and Flinders Ranges.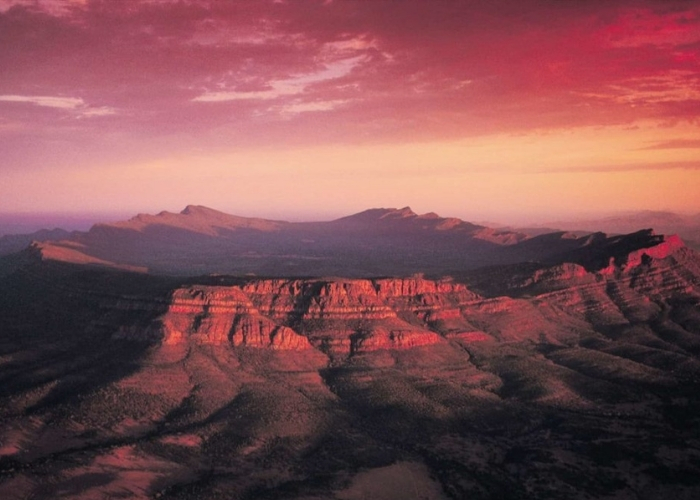 Flinders Ranges, South Australia
Taste of the Outback
For a breath-taking introduction to Australia's Great Outback, the 3-day Taste of the Outback air safari ticks all the boxes. Meet the people, hear their stories and experience the outback's great expanses on this one-of-a-kind adventure.  
Fly to the tiny outback town of Innamincka in South Australia's remote north east, flying over Dig Tree (where the explorers Burke and Wills famously set up camp) along the way. Discover the iconic town of Birsdsville and join a stunning 4WD tour to Big Red, the 40-metre sand dune on the edge of the Simpson Desert. Fly over Lake Eyre capturing beautiful photos along the way, then discover the dramatic landscape of the Flinders Ranges, staying overnight at Arkaroola Wilderness Resort. Finish up by following the famous Ridgetop Tour in an open-air 4WD vehicle, keeping an eye out for the areas abundant wildlife along the way.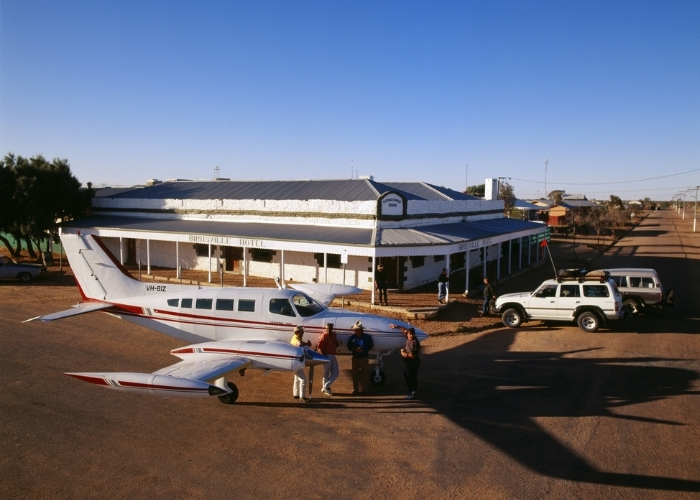 Birdsville Hotel, Queensland
Ancient Flinders Ranges
The Flinders Ranges of South Australia are characterised by towering ancient cliffs, deep craters and magnificent red river gums. On the 4-day Ancient Flinders Ranges air tour you'll discover spectacular scenery, animals, stars, fossils and friendly locals – you'll leave feeling refreshed and invigorated with a new-found respect for the land we call home. 
Enjoy a scenic flight over the awe-inspiring Wilpena Pound and learn about life on a commercial sheep station at Rawnsley Park. Stay at Arkaroola Wilderness Sanctuary, joining one of their signature Ridgetop tours, travelling in a specially constructed open-top 4WD vehicle. Gaze in awe at the starlit sky at the Dodwell Observatory, home to some of the best viewing conditions in the country. Explore Brachina Gorge National Park and spend a night at the historic Prairie Hotel. Tour the extraordinary Ediacara Foundation fossil site, one of the most significant fossil sites in the world and visit the stunning Parachilna Gorge.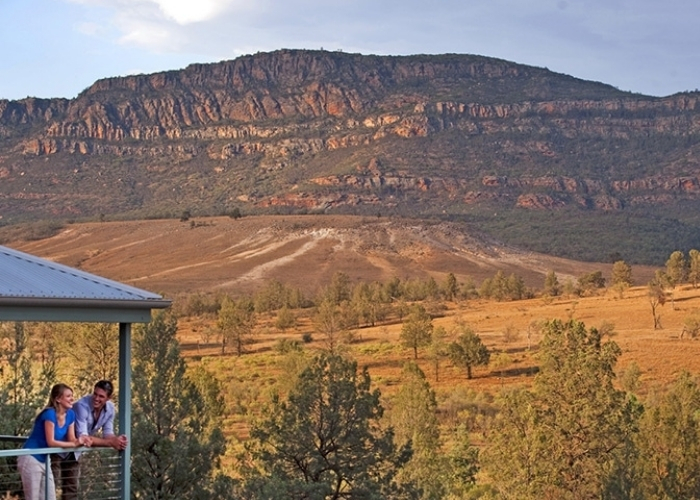 Rawnsley Park Station, South Australia
Davidson's Arnhemland Safaris
Davidson's Arnhemland Safaris is a remote and exclusively leased Safari Lodge at Mt Borradaile, a registered sacred site located in West Arnhem in the Northern Territory. Nestled against the Arnhemland escarpment is this landscape of rugged ranges fringed by idyllic billabongs, a stunningly beautiful wilderness and cultural landscape to the aboriginal people.
Situated in a natural bush setting, the lodge is a new and tastefully furnished communal area encompassing a dining, lounge, bar, library and a large outdoor deck area for alfresco dining, all overlooking the sandstone paved pool. The safari lodge melts into the surrounding bush, with the deluxe ensuite cabins built to embrace the top end climate. Delicious food can be enjoyed from the onsite restaurant. 
Days are easily filled at the lodge, further discovering the fascinating history of the location. Journey into the sandstone escarpments formed thousands of millions of years ago at Mt Barrodaile or spend a late afternoon on the billabong observing the wildlife including the many crocodiles that inhabit the watercourses, both estuarine and freshwater species. End the day with a cruise along the billabong to see the sun set over the floodplain and witness Mt Borradaile light up with magnificent colours as the sun sinks into the horizon.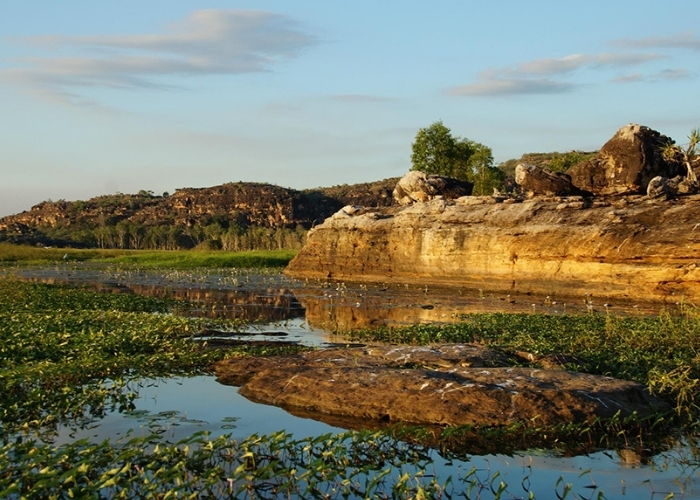 Mt Borradaile, Northern Territory
Be inspired by Back to Nature
Be further inspired by Australia's natural beauty by tuning into Back to Nature on ABC iView. This visually stunning documentary series featuring two storytellers guiding viewers through the wonder and awe of the Australian landscape, exploring stories that reconnect the audience with the natural world, with Country. Both yearning to reconnect with nature themselves, actor Aaron Pedersen and writer Holly Ringland take the audience on a journey into the deep interconnectedness between human beings and the landscape, exploring stories on geology, history, natural science, mystery, spirituality, and First Nations' knowledge. 
Locations visited include Springbrook National Park on Yugambeh Country in Queensland, Snowy Mountains-Ngarigo country in NSW, the Mount Lofty Ranges in South Australia and the Bay of Fires in Tasmania. Closer to home, they take viewers on a journey to Hanging Rock-Ngannelong and the Otways.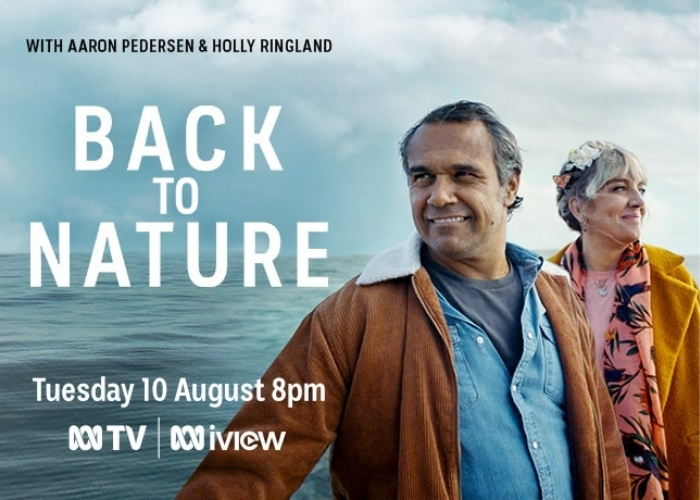 Start planning your outback adventure today. Get in touch by emailing us at enquiries@jigsawtravel.com.au or by clicking the link below.